The COX Companies were founded in 1982 as a direct result of the implementation of the Motor Carrier Act of 1980, which deregulated the trucking industry. COX Truck Brokerage began operations as a logistics services provider to assist shippers and receivers in managing the carrier selection process in order to take full advantage of the changing market conditions that the new deregulated environment produced. Shortly thereafter, COX Transportation Services opened its doors as a new common and contract carrier primarily offering "just in time" motor carrier services in truckload quantities between the east and west coasts. Our customers benefit from our strength as one of the nation's top motor carriers hauling a wide variety of general commodities. Our service area has grown to nationwide coverage, in addition to most of the Canadian provinces. Our terminal facilities include: Ashland, VA; Irving, TX; Kernersville, NC; Hampton, VA; Baltimore, MD. Our equipment locations are in Los Angeles, CA; San Francisco, CA; Waco, TX; Chicago, IL; New Jersey; Atlanta, GA.
All COX trucks are equipped with real time on-board communications and tracking for instant location of our trucks, but more importantly, our customers' cargo. Our professional driver, double-team operation has been able to carve out a specialty niche operation offering dependable and extraordinarily time sensitive truckload services for expedited long haul shipments.
Our "Commitment to Excellence" has earned us several industry awards and paved the way for continued growth and expansion of our services with thousands of satisfied customers. We have maintained and expanded our basic philosophy striving to be flexible to our valued customers' specific needs. We will continue to position our combined companies for the robust market conditions that exist in our industry today.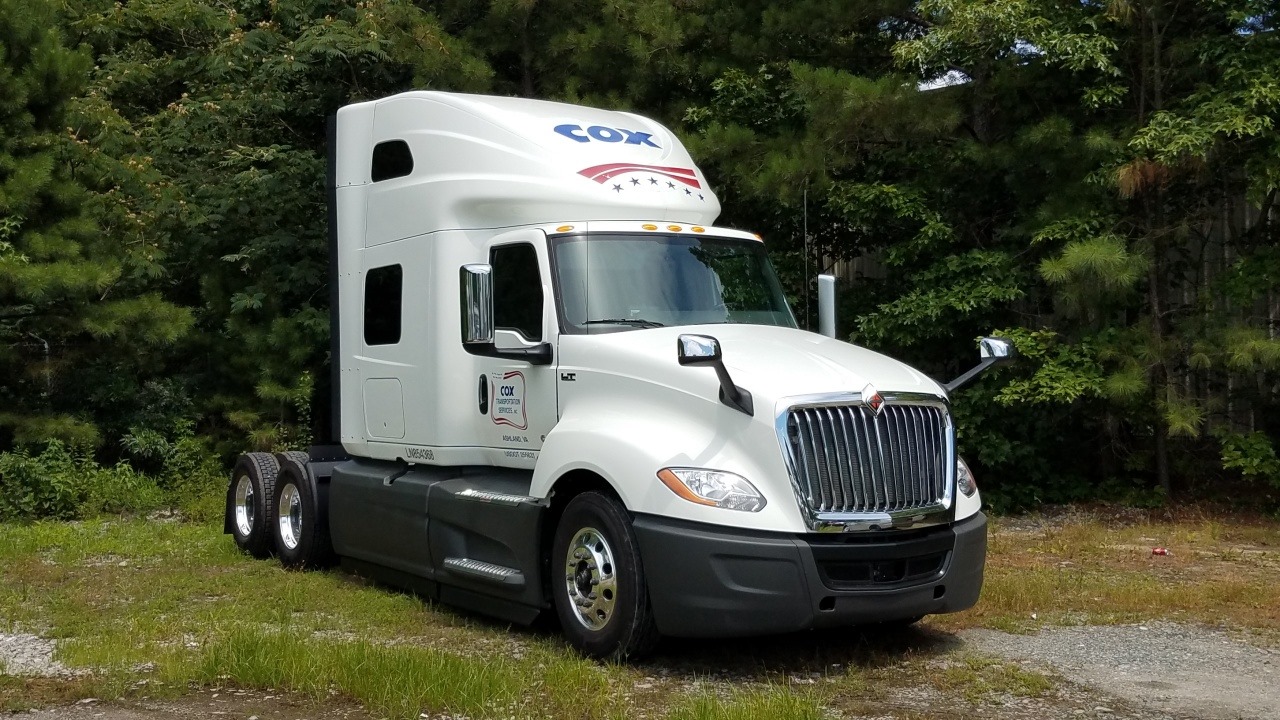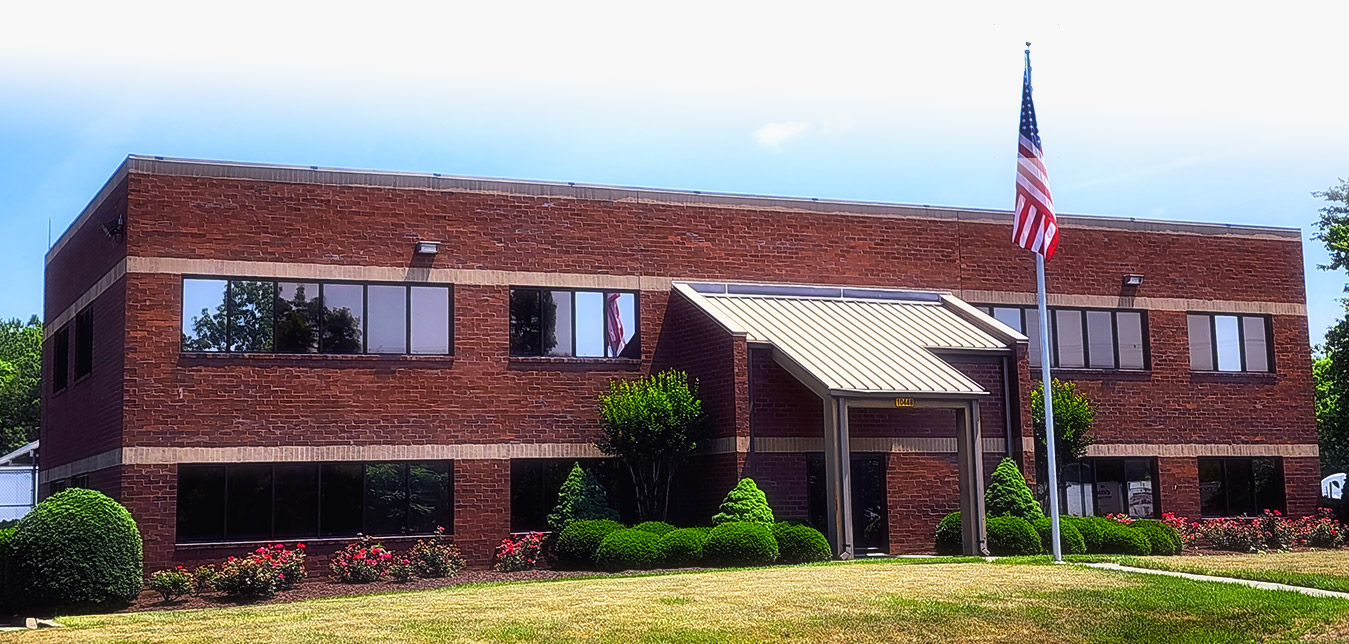 We are humbled by the confidence our customers have shown in COX over the years and are indeed grateful for the opportunity to serve and grow with them as we provide them with high quality motor carrier services throughout the USA. We're proud of the important role and contribution that the men and women professional drivers working with Cox provide as we keep America's economic pipeline filled with food, medicine and all of life's necessities and consumer goods. That's why we've inscribed on the rear doors of all of our trailers our company's simple, patriotic, but sincere motto: Trucking for America.
Partnering with the Military
John A. Cox founded COX Transportation Services, LLC in 1982 and from the beginning the company adopted an American patriotic theme of red, white & blue for its logo. The now nationally known COX company slogan "Trucking For America" was adopted. COX and its employees are extremely proud of the role motor carriers play in keeping America's economy strong.
When the United States Marine Corps announced it was looking for carrier partners to spread the Marine's message across America, it seemed to be a natural fit. We at COX quickly responded to be included in this program. John Cox said, "The United States Marine Corps partnering with The COX Team… 'Trucking For America' is a winning combination!"... →
When the Department of Defense announced that it was looking for carrier and other partners to spread a message of support to all branches of the military, COX once again was more than willing to supply a trailer for this worthy cause. It's just one small way that we can hopefully show our loyal support for the men and women that willingly put themselves in harm's way so that we can enjoy the benefits of living in this great country. We cannot thank them enough for the tough job they do.
We're proud to be Americans and we're proud to assist the United States Military in its efforts by providing trailers to be used in each important campaign.
Jay Smith, President
Having grown up in the transportation industry with his father, grandfather, and great grandfather all involved in the household goods moving business, Jay has always been around trucks, and at age 15, he began by working in that business. Jay then moved to the freight business when he originally joined the staff of The COX Companies in 1988 while still attending Virginia Commonwealth University. He graduated in 1990 with a B.S. in Business Administration and Management. Upon graduation, Jay accepted the position of Systems Supervisor for COX Transportation Services, LLC to begin his full-time career. Since then he has served as Office Manager, General Manager, Vice President Administration and Executive Vice President, prior to having received his current appointment. Jay is originally from the Richmond, VA area where his family was involved for many years in the household moving business. In 2014, Jay purchased the company from its original founder John A. Cox, and Jay continues to serve as the companies' Chairman and President.
Chip Norford, Vice President – Sales
Chip rejoined the Cox team as Vice President of Sales in late 2020. He has been in national truck load sales for 30 years with a great understanding of the marketplace. Chip originally started in truckloads sales as the Sales Manager at Cox for his first 12 years in the industry. With close to 30 years in the industry now, Chip oversees the sales and marketing efforts of Cox Transportation Services LLC.
Paul Cook, Vice President – Brokerage Operations
Paul joined the Cox Companies in January of 2022 as VP of Brokerage. After growing up in southwest Virginia he got his B.S. in Business Admin from Virginia Commonwealth University in 2006. He spent 16 years at an industry leading global brokerage with roles in Sales and LTL Consolidation management. Paul is responsible for overseeing operations, account management and sales for our Brokerage division.
Brian Bondurant, – Chief Financial Officer
Brian joined the Cox Companies in late 2020 as the VP of Finance. A Richmond VA native, he graduated from Washington & Lee University with a B.S. in Accounting and earned his Masters of Accountancy from the University of Richmond. As a licensed VA CPA, Brian got his start in Public Accounting working on large public manufacturing clients before taking over as Controller of a higher education marketing, technology, and research company in Henrico. Brian is charged with managing The COX Companies' accounting department, as well as overseeing matters of insurance, financing and benefits administration.
Harold Mims, Vice President – Trucking Operations
Harold joined the COX Companies in 1993 as a dispatcher within COX Brokerage. From there he moved on to work within all areas of dispatch and operations for both COX Truck Brokerage and COX Transportation Services prior to his current appointment as General Manager. A Richmond, VA native with over 20 years experience in the transportation industry, Harold is responsible for the day-to-day oversight of operations for the COX Companies.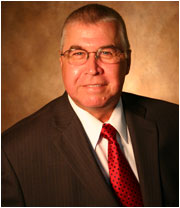 I have always been blessed with so many smart mentors around me who influenced and guided my life; first my dad, a lifelong trucker himself, and also the founder of Overnite Transportation Company, J. Harwood Cochrane, became a major influence as well. The year was 1980, and I was the Sales Manager for Great Coastal Express, a truckload carrier predominately serving the East Coast. It was that year that U S Congress deregulated America's trucking industry by passage of the Motor Carrier Act of 1980 that eliminated most of the rules and barriers preventing new carriers from being able to obtain operating authority from the old Interstate Commerce Commission...
It was a 'new day' for the trucking industry and uncertainty loomed in a newly deregulated environment. I watched closely, talking with my customers about what they desired from any new carriers that may take advantage of deregulation, and it became clear to me that if I wanted to step out on my own to start my own transportation business the time was now. I recall I enthusiastically did so, but with much trepidation because of so much uncertainty about what lay ahead in the industry. Most all of the larger established carriers fought hard against deregulation and the naysayers spoke loudly about the perils of a deregulated environment. Regardless, I moved ahead with my plans to start my own business.
On May 3, 1982, the doors of COX Truck Brokerage were opened as a licensed contract carrier and property broker without any equipment of my own. Our first week, I visited all of my customers who had relied on me throughout the years to assist them in moving their goods to the market place with my previous employers. I had established long-term great relationships with people who believed in me and who would become very meaningful to my new startup company and me. In the early days, I hired safe and dependable contract carriers to haul my customers' goods with reliable service and at affordable prices without sacrificing service.
About two years later one of my larger customers insisted I buy my own equipment to haul their very sensitive freight movements, which reluctantly I did in order to keep the account. It was a great move and I never looked back. Even today we still rely on many contract carrier partners through COX Truck Brokerage to efficiently handle thousands of loads annually for our customers. However, the fleet of COX Transportation Services has enjoyed much success throughout the years and is certainly the chief component of the combined COX Companies.
There is no doubt that my greatest asset throughout the years is the wonderful associates that make up the staff of our fine companies. Cox associates and our professional driving staff are second to none in America's trucking industry. I am so proud of each and everyone that helped to build our company, and I will be forever grateful to each one for their individual contributions. With so many talented employees on staff, it gave me the opportunity to serve my industry in other ways, such as by being an active member of the VA Trucking Association, and later serving as its President. The VTA was the most important voice for our industry in Virginia's General Assembly, where legislators would make decisions and or laws that would affect our industry, and as VTA President I would help to be the voice of Virginia's trucking industry politically.
That experience became important a few years later when an opportunity presented itself to run for political office myself to represent the 55th District in the Virginia House of Delegates. I was honored to win that seat for two separate terms to serve my friends and neighbors in such a high capacity. That wonderful experience, however, would not have been possible without the staff and leadership that I had in place with the COX Companies, ensuring the continued growth and service to our valued customers/clients.
After having made the decision not to run for a 3rd term, my focus shifted to the future of COX Transportation Services and its employees. After 5 decades of trucking and my advancing age, I felt it was important, not only for my family, but also for all of the dedicated people who made up the combined Cox Companies, to set a solid plan for the future. Jay Smith, serving as our current President, and who guided our company while I was serving in the legislature, was certainly the natural heir. It was vitally important for me to keep the company intact without anyone losing their job, and creating a path for Jay to assume the ownership was the right course to do just that. After all, Jay Smith had earned the opportunity by his dedication to our company throughout the years and learning the 'ins as outs' of the trucking industry, much as I had done in my early years beginning with Overnite Transportation.
It was also very important to keep the company intact for all of those valued customers/clients that have come to depend on the many various services our team provides routinely, while offering the very best in motor carrier services. Looking back on my long career, which began part-time in 1959 at Overnite while in school, until September 21, 2014 (the sale date), I am filled with emotion and much gratitude for so many that have contributed and made me the person I am today, and for the continued success of the combined Cox Companies. I cannot begin to name all of those (it's far too many) who have contributed so much to our success over the last 32 ½ years, but without all of the safe professional truck drivers who have been the backbone of our company none of this would have been possible.
I now look forward to what may lie ahead for my family and me in this time of retirement transition, but I also look backward with a keen sense of pride and heartfelt gratitude for all those that have made this ride possible for this old trucker. I am especially pleased that, as I move on, I am confident that the employees of this great company under the leadership of its new owner, Jay Smith, will continue to serve our valued customer/clients with the very best of motor carrier services while "Trucking For America."
John A Cox, Founder